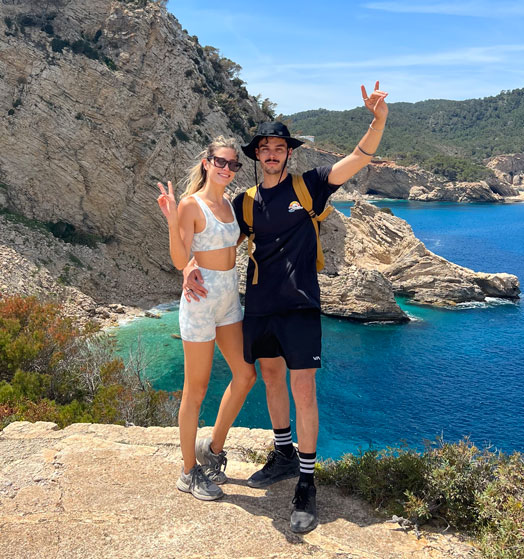 "Into the island" was create as we felt in love at first sight with Ibiza...
We, Pablo & Noemi, arrived 9 years ago in the island,  on a one way trip, leaving behind the stereotype idea that Ibiza is only a place for parties and fun- loving persons

«Into the island» was created as we felt in love at first sight with Ibiza, springing up the desire, of sharing this paradise with others.
We both stay fascinated by the hidden beauties of this territory, these so wonderful
landscapes we never expected as magic, until we discovered it by our own eyes.
For that reason we decided to start up «Into the Island», as we want  you to discover the genuine character of Ibiza, enjoying  his powerful nature by land and  by sea, offering our customers a one day trip, where  they'll realize 3 different activities: 4×4 drive, trekking route, excursion by boat
We have decided to make our passion our work, working outdoors, respecting the environment, making our client connect with the most intimate part of the island and end up as in love with it as we are
We want to share our love and passion with people who enjoy nature and environmental care as much as we do.
Our great responsibility is to create experiences in a sustainable way and always keeping in mind the social and environmental care
Taking care of the body as well, that is why our activities are linked to sports and at the same time with the opportunity to enjoy the beautiful landscape of the island.
We want to take care of our guests and give them an unforgettable experience, offering a day full of magical moments